Thrive Wellness
We worked with wellness marketplace, Thrive Wellness, to develop their brand and deliver a chic, professional investor pitch presentation.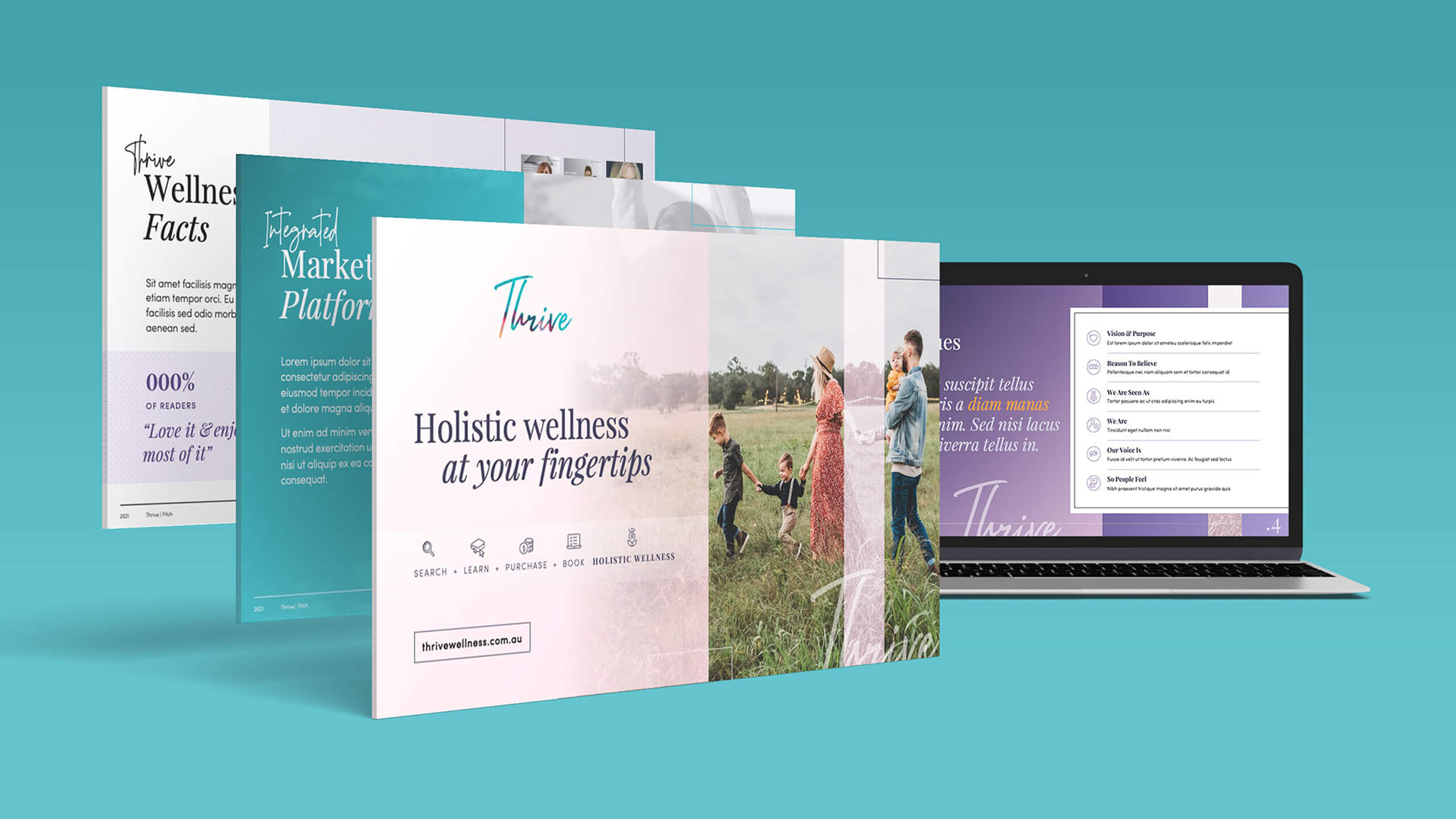 Thrive was referred to Persuaders by a Med Tech colleague and reached out for assistance designing a pitch presentation that would wow potential investors.
They decided to proceed with a bronze level pitch presentation and were amazed with the results!
Read on to see what we delivered for Thrive.
The Brief
As a start up business, Thrive had the financials and business model in place, but lacked the resources and expertise to build a powerful brand and pitch presentation that would impress potential investors.
Thrive is a wellness marketplace and publication. While they did not have firm branding, we were able to use elements from a recent issue of their publication to ensure we were using the correct colour palette, fonts and imagery style.
The solution
As Thrive selected the bronze pitch package, we worked with their team to collect and organise final content for their pitch. Prior to project kick off, we discussed their goals and target audience, as well as the look and feel they were going for with this presentation.
From there, we provided advice and guidance with regards to content layout to ensure each slide had the maximum impact and did not overwhelm their audience, but rather highlighted critical information.
We also offered recommendations for ways we could elevate their brand to make it more dynamic and sophisticated.
The design process included a concept of 2-3 slides, at which time Thrive's CEO was able to provide feedback and make changes. From there, we proceeded with the full pitch design and final round of changes.
The outcome
The result was a beautifully designed, 15 slide pitch deck that brought Thrive's branding and personality to centre stage and instilled their team with confidence, knowing they had a stellar design to deliver to investors.
Thrive's investor pitch was thoughtfully laid out, so as to showcase their potential to build a powerful business and connect with their audience.
The team were delighted with the outcome and have used this pitch as the model for their brand style moving forward.