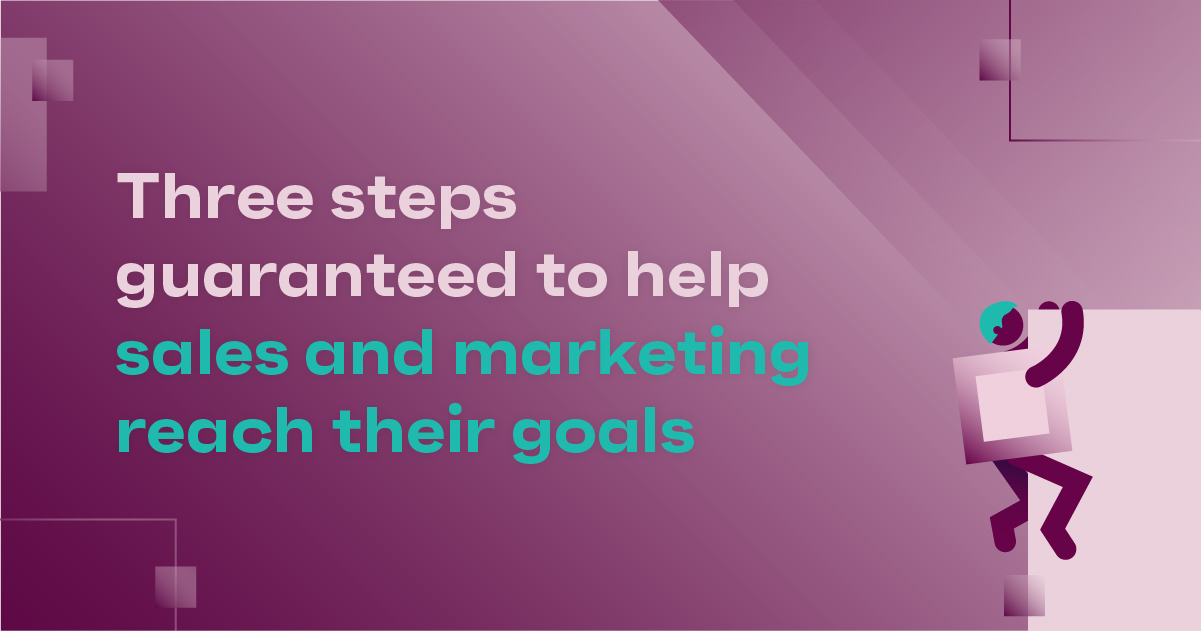 Three Steps Guaranteed to Help Sales and Marketing Reach Their Goals
What you need to know:
Get sales and marketing together to plan out mutual goals and the processes required to meet them. Make them SMART!
Customer Experience research is key and both teams have a lot to bring to the party.
Build your brand story – without it, your customers won't receive consistent communication from your business.
For as long as there have been sales teams and marketing departments, there's been friction. 
At Persuaders, we see this friction every day. Sales and marketing teams come to us to create material without the input of the other department. This observation is supported by a 2016 State of Marketing Productivity study which reported 56% of sales people create their own sales materials, even though 85% of marketing says sales is its priority. Our guess: That number hasn't exactly gone down. 
It also said that 90% of marketing-produced content goes unused by sales.
This results in businesses wasting a lot of time and money brainstorming, briefing, creating, revising and publishing unused assets. 
How can businesses start closing this gap between sales and marketing?
Step 1 – Unify team goals
To get on the right path and void unnecessary delays and disagreements, you need to ensure that both teams have goals that are well-aligned. At the very least, means that each team is informed of the other's goals and progress. Ideally, they have joint goals. 
When each member of the sales team is focused solely on achieving a personal sales quota, while marketing team members are A/B testing an email, silos are inevitable. Clearly defining what success looks like to both departments is a great first step.
By setting goals together, sales and marketing teams gain a clearer understanding of each other's needs and open lines of communication between them, shaping the way procedures are set. 
It also allows these two teams to determine or refine lead stages together so they're on the same page. As marketing and sales are intertwined in many ways, connecting them for mutual goal setting reflects their close nature and minimises frustration and miscommunication. 
Make sure your goals follow the SMART model. For each goal, ensure you meet the following criteria:
Specific: Focus on one clear outcome.

Measurable: Determine a metric you can use to measure that goal.

Aspirational: Go beyond the standard, common results and address what you really want to achieve. 

Realistic: In the same breath, keep your goals  in check and be reasonable. Consider your resources (budget, staff, etc.) and audience. If you usually get 10 leads a week, aim for 15 – not 150. 

Time-bound: Your goal must have a deadline of some kind. This gives the team a clear timeline to bear in mind and work towards.
When the time is up, bring the team together to review performance, share feedback and discuss how you can improve. 
These goals can (and should) be reassessed annually or semi-annually and adjusted, as needed.
Step 2 – Get to know your customer
Next, you need to identify your typical (or ideal) customer. We don't mean write down some top line demographics. You need to do deep dive into your key customers' psychographics. 
Get right in there and paint a picture of your key client: What's their name? What type of business do they work in? What's their role? Where do they live? What do they do on the weekends? What motivates them at work? 
While demographics explain the baseline of "who" your customer is (such as gender, age and income), psychographics explain "why" they buy (e.g., their values, spending habits and hobbies). 
Sales and marketing need to come together to discuss: 
Who is the target audience?

What are their biggest fears and concerns?

Who do they want to become?

What challenges are they facing?

How does your product/service benefit them and solve that problem? 
Customer Experience (CX) research is critical for everyone on the team to have a clear understanding of who you're trying to reach. You can go all in with detailed research or even start with a one day workshop to get your team aligned and putting the customer first. 
When building out your CX tools, you'll go through a series of activities that help you narrow down themes across each touch point. How does your customer feel when they first do an online search for your product or service? What about right after they pay? What pressures are they facing at work? What about at home? 
While we know that everyone is different and personalisation is key for sales and marketing, having a solid foundational understanding of the type of person you're working with and/or trying to reach will guide your decision making, hopefully saving time and money down the line. 
The exercises and questions you'll do when conducting CX research help you build out customer journeys, empathy maps, personas and other valuable assets that can be shared across the team. These tools should be used as a regular reference for updating existing materials, creating new campaigns and considering how you communicate 1:1 with your customers. 
Step 3 – Craft a story
A unified brand story helps you clarify key messages and get your sales and marketing teams using the same language when communicating with your audience. 
Having a clear brand story also supports the customer acquisition process, as communication is seamless and consistent throughout. 
To start, bring the team together for a Narrative Finding Workshop to learn about popular frameworks and how they can be applied across all kinds of communication channels. 
This workshop will take the team through worksheets and exercises that get them thinking about the bigger picture and motivations of your audience. Oftentimes, your brand story can help you connect with your client's bigger life goals and drivers – engaging them on an emotional level and going beyond what you can offer on face value. 
It's through this emotional connection that you can build brand loyalty and get an edge over your competition. 
The sales team will be the best source for discovering the language that your target audience uses and common problems they face. Meanwhile, marketing will have insight into how to reach your target audience with your message. 
Your brand story can be used across all touch points, including:
Website 

Blogs

Email nurture campaigns

Social media

Ads (TVC, print, social, etc)

Pitching / sales presentations 

Sales conversations

Client emails
It can also be used to drive client retention and engage customers throughout the process of working with your business. 
The brand story connects you with your customer and positions you as the ideal person/business to help them reach their goals and improve their lives. 
Once these teams (or key members of each team) have come together to build your brand story, share it with the wider team. That means everyone – finance, admin, the whole group! Business values tie into your brand story, so when everyone is included in this process to some degree, it brings cohesion to the team. 
Go forth and persuade!
Now that you've got sales and marketing aligned and you've created the tools you need to guide communications, you're ready to win more deals. 
Looking for an expert to guide you through the process? Just want someone else to create the tools for you? We've got your back. 
We'll still need your involvement a bit to understand your customers and business offering, but the Persuaders team is ready to deliver the tools you require to get marketing and sales speaking the same language. 
Get in touch with our team today.